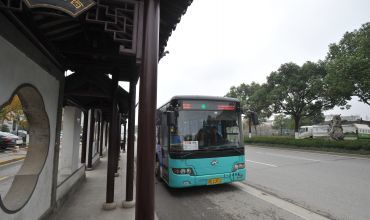 根據上級統一部署,蘇州各級各類學校將于3月30日起分批次、錯峰開學。為切實保障開學后師生公交出行安全、暢通、有序,蘇州市城市客運交通管理處近日發出通知,要求市區主要服務學校的公交線路,在道路通暢的前提下,原則上于3月30日前全部恢復到位。
Primary and middle schools within Jiangsu Province will stagger the opening of spring semester in batches starting on next Monday, which will put an end to the 'longest winter vacation ever'. In principle, bus lines mainly targeted to serve schools and students in urban district will be fully resumed before March 30, according to the latest notice of Division of Passenger Transport Administration of the Suzhou Municipal Bureau of Transport (the Division for short).
Currently in Suzhou urban district, 365 of the total 410 bus lines have been resumed with a resumption rate of 89%. For the safety of teaching staff and students and to guarantee an orderly operation of public transport after the opening of schools, the Division requires public transport companies to make rational arrangements on the line operations. Bus lines that are targeted to serve schools will return to normal schedule as soon as possible.
Public transport companies shall adjust the departure intervals in accordance with the data of passenger flow and public needs, and increase the transport capacity of school lines during the peak hours. Operation of bus lines will be video-monitored to prevent the vehicles from being overloaded.
For the purpose of epidemic prevention and control, passengers are still required to take body temperature and wear face masks. Those running a fever or refusing to wear masks will not be allowed to board.
(Source: isuzhou)